The 3 C's of Teaching a Private Yoga Lesson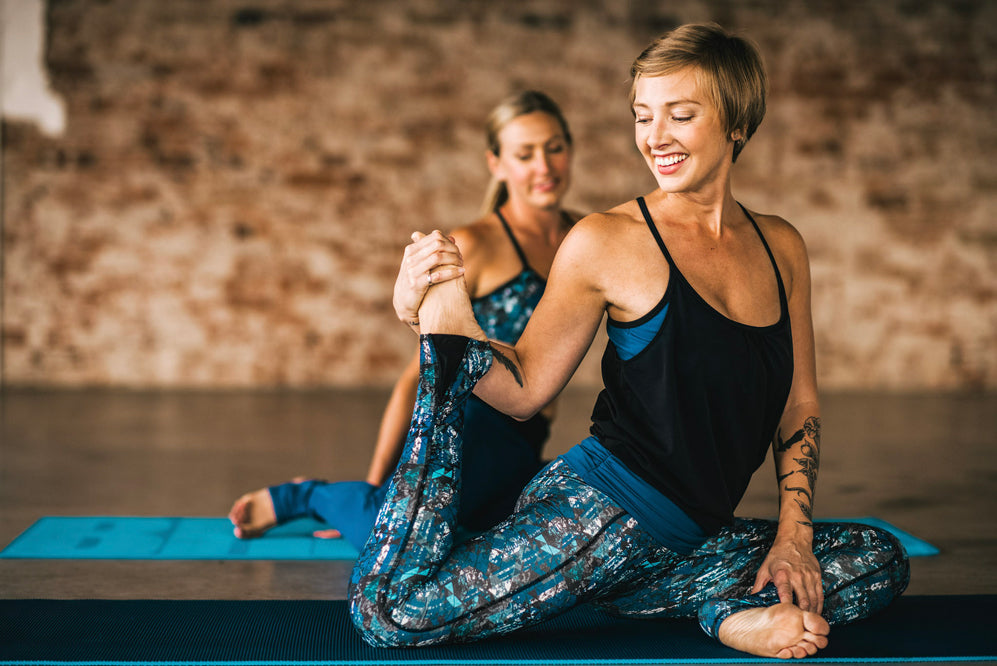 by: Amanda Huggins
There's something quite special about teaching private yoga lessons. Removed from a public studio setting, you have an opportunity to communicate more freely with your student and customize based on his or her individual needs.
Admittedly, working in a one-on-one setting can be daunting at first. You want to guide your student into exactly what they need, but you also don't want your sessions to feel forced, contrived, or unintuitive.  It's a delicate line to toe, and it's natural for a bit of fear to creep in before teaching your first private lesson.
As yoga practitioners it's our duty to hold a safe space for our students, which makes it necessary to release any vritti energy we might be holding onto ourselves. I've found that creating light guidelines - or as I've come to call it, the "Three C's" - has been a tremendous aid in allowing private lessons to truly flow - no pun intended!
The "Three C's" serve as gentle reminders for the different stages of teaching a private yoga lesson:
Create: Creating and preparing your physical space before teaching.
Clear: Clearing your spiritual and emotional space before teaching.
Connect: Connecting and communicating with your student while teaching.
 Let's dive in!
1. CREATE
Create Your Teacher Toolkit
One of the best pieces of advice I received in training was to create a teacher toolkit (or as I like to call it, my Mary Poppins bag) of yoga props that may come in handy when working with a private client.
Blocks - You want your student to be as comfortable as possible, and blocks are one of my favorite ways to deepen a client's experience. For newer students, I usually go with a foam block, and find opportunities throughout practice to offer them suggestions using blocks to support and/or deepen their practice.
Strap - Just like blocks, straps allow students to access shapes that might not happen otherwise. I always bring my 8 foot yoga strap, and if I'm planning on a pose that might require a bit more length (like bound supta baddha konasana), I'll be sure to bring along an extra strap, too.
Bolster - A bolster might be my favorite prop to use with private clients. In a large studio setting, it's sometimes not possible to show all of the ways in which a bolster can be used throughout practice...but in private lessons, you can change your student's experience completely with just this one prop.
Essential Oils - Finally, I'd suggest tossing in a bottle or two of your client's favorite essential oils. It's a nice treat to dab a bit on your palms before any sweet pre-savasana adjustments.
2. CLEAR
Clear Your Space
Space-clearing, or the journey towards presence, is a rule I live by: you've got to fill up your cup before showing up for other people.
There's no right or wrong way to get present. Chances are, you're already deeply familiar with your favorite ways to get centered, calm, and clear. While the modalities towards presence will vary for each of us, the importance piece is that we create a ritual for ourselves: a few gentle breaths in silence as an opportunity to open ourselves up as vehicles of the practice.
3. CONNECT
Connect and Communicate With Your Student
Above all else, private lessons are an opportunity to develop honest connection and open communication with your student.
Before entering into a private lesson, be sure to have an understanding of what's going on in their lives that may affect their practice, both physically and emotionally. Are they working through any injuries? Are there any major stressors that are affecting their quality of life? Both the tangible and intangible will materialize in their practice, and as teachers, we must meet what comes up with love, support, and grace.
Especially if you've already had prior conversations with your student about his or her needs, you'll probably have a few sequences in mind to work on during your session. While it's good practice to have an understanding of what you'd like to do, it's important to remain present to what's going on in that moment. What does your student need? How are they responding?
Maintaining this connected, communicative presence will allow both you and your student to have an open, honest, and fulfilling practice.
With the "Three C's" in mind, my hope is that you'll feel grounded, receptive, and excited to teach private yoga lessons. I'd also love to hear what has worked for you, too! Feel free to leave your thoughts in the comments, or send a message to @TheFeistyYogi on Instagram.
Are you a Yoga Teacher? Check out our Wholesale Program where you can earn 45% off!