New Year New You - Yoga for Healthy Weight Management with Yoga Studio App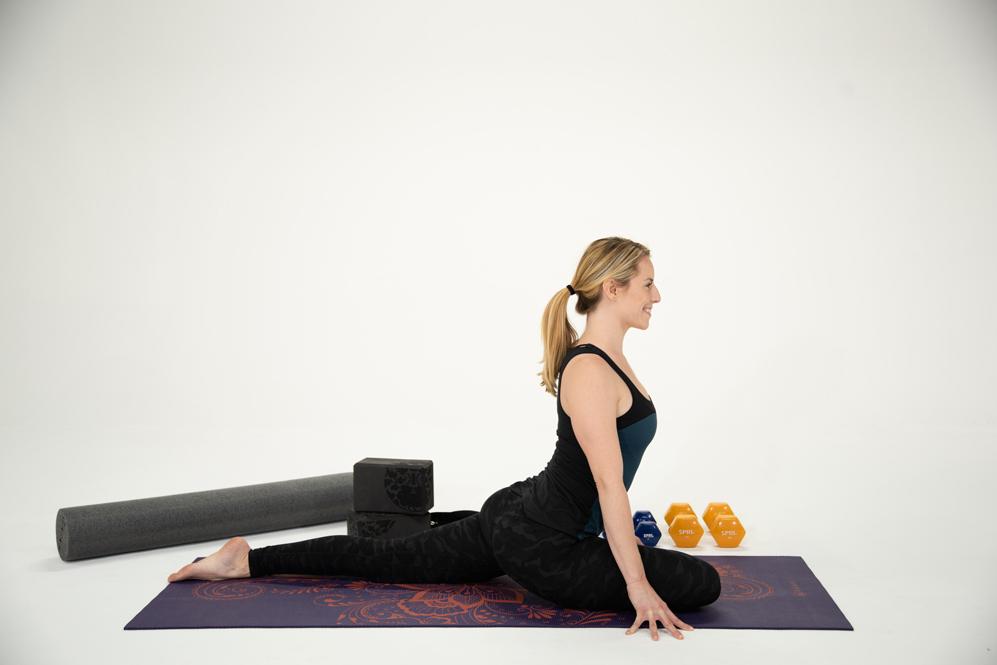 by: Alia Sebben
This time last year I was nearing the end of my first pregnancy. One day while at the doctor, I found myself tipping the scale past a 45 lb weight gain. While most first-time moms know to expect this, it's a different story when the numbers are physically looking back at you (I literally asked my doctor if I could step on the scale backwards, just to avoid the unnecessary worrying in my head)! It's the dreaded aspect of pregnancy so many women fear. Growing up an athlete, I was no stranger to weighing more than other girls (I knew muscle weighed more than fat, and being skinny was never a goal). Yet this was different. The year before my pregnancy, I was in the best shape of my life. At the time, I had set a goal to become proficient at rock climbing, and thanks to a dedicated weight lifting program for about two years - I was scaling up climbing routes I never thought were possible (cleaning 11.ds clean - for those of you who know the climbing lingo)! For the first time in my life, I could do pull-up(s )- three in a row! I had never even come close to completing half a pull-up before. I picked up surfing with ease while traveling on a yoga retreat to Costa Rica, all thanks the strength I had recently acquired, as well as balancing everything out with a steady yoga practice. I felt like the queen of conquering anything I put my mind to, no matter how physically or mentally challenging. 
Fast forward to being pregnant, and not too long after learning of my pregnancy I was told that it was high-risk. My baby was categorized as "small for gestational age" almost from the onset. My OBGYN's prediction was that my placenta hadn't formed properly, therefore my little one wasn't getting the nutrients she needed. Between her suggestions and my own research, I essentially had to quit all physical activity. Talk about a complete 180.
I tried incorporating walking and gentle yoga into my routine, but when going from extreme levels of activity and (finally!) rocking a six pack, to having to sit out everything out, the mental toll was significant. Between the anxiety around the health of my little one, to knowing my greatest adventure of becoming a solo mama was still ahead of me, needless to say I was pretty stressed. I continued on with slow paced walks, matching my breath to my movement - just like I always had in my yoga practice. (Thank goodness for conscious breathing techniques or I might have imploded from the anxiety).
Fast forward to 36 weeks pregnant. My baby hadn't grown in weeks - and my doctor advised it was best to have this baby at 37 weeks. Labor was cake (if you don't count the most intense pain of your life - which I don't because I think it caused me to blackout!). My tiny baby came into the world January 13th at 5 lbs 8 oz (much larger than we thought, but small enough to rest on my once-ripped forearm). The love was so overwhelming that immediately the difficult journey to there didn't matter. That said - the challenges were yet from over. Once baby girl came home from the hospital, she wasn't gaining the weight back that newborns typically lose their first few days out of the womb. We had a scary incident in the middle of the night on day 4 of her life, which landed us in the NICU for three days. Turns out her oxygen levels were low and she was placed on supplemental oxygen. Baby girl continued on assisted oxygen for the next 6 months. Between her small size, my lack of sleep and being a single mama - we didn't leave the house much those first 4 months or so. 
I knew the kind of mental stability exercise had provided me my entire life was what I needed to tap into at this time in my life. And I remembered how I felt just 9 months prior - physically and mentally capable of taking on any challenge. So, I vowed to create a strong mind and body - even if it meant doing it in my house. Given that newborn sleep is often, yet inconsistent in length, my friend who previously aided me in my weightlifting programs helped me design at-home workouts that lasted anywhere from 15-45 minutes. I incorporated light weight training into yoga postures, I did dynamic warm-ups, and consistently used my foam roller to tend to my tight, sore (but newly developed) muscles. 
I diligently trained at home 5 days a week until I got back to the gym. The goal was never to get back to "pre-baby" anything, but to simple FEEL better - in my mind and my body. Once getting back into the gym at about 5.5 months, I had lost 35 of the 50 lbs I gained during my pregnancy. My sleep was still lacking, but my overall energy level was getting back to normal, my anxiety was lessening, and slowly I felt my mental and physical strength return to that of a Mama Warrior!
Flash forward to now, my little one is currently thriving, hitting every developmental milestone - and I'm currently sitting at the climbing gym, in-between lifting and climbing, typing out this story for you. To sum it all up, life tends to throw us curveballs when we're least expecting it – and while it takes courage, self-love and a strong mindfulness practice to pull through, never forget there are ALWAYS endless tools and resources at your disposal to help you navigate. That's why I was thrilled to team up with Yoga Studio App to help develop their Yoga for Healthy Weight Management series. The classes are filled with exercises just like the ones I incorporated into my life during and immediately after my pregnancy, along with some gentle yin yoga to help keep your mind-body connection present and thriving. I constantly use the app myself, on days that it's too cold to leave the house, or my little one wants to skip her naps. Their class options are endless, and the accessibility of being able to practice anytime, anywhere within the limits of your own schedule is a game-changer. Available now in the iOS app store or Google Play, try the free 7-day trial today!
 Alia Sebben is the Founder of Amana Yoga, Downtown Boulders go-to Yoga Studio rooted in the 8-limbed philosophy for the Modern Day Mindful Practitioner. Alia is a teacher, entrepreneur, coach and content creator for Yoga Studio App.