Melinda Parrish: Healthy at Any Size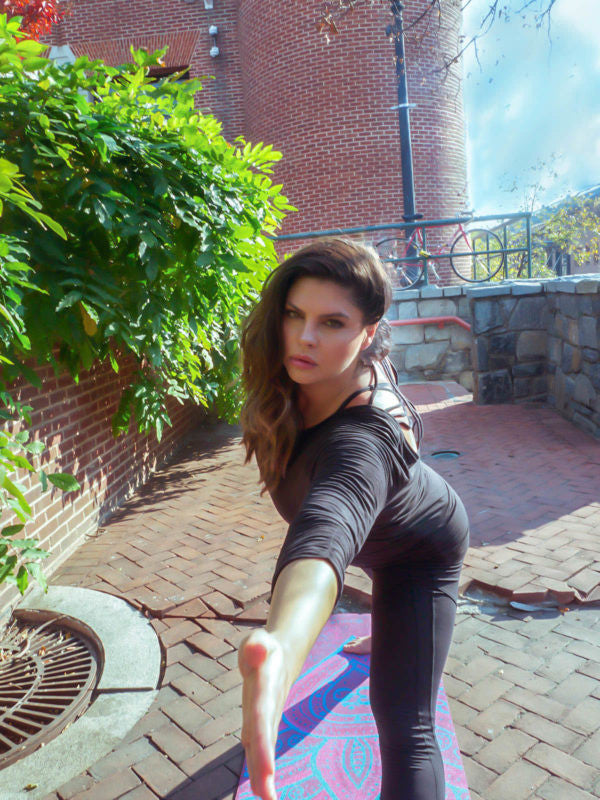 Author: Melanie Klein
Often, inspiration comes when and where you least expect it. Melinda Parrish, a Plus Size Model, Body Positivity advocate and the creator of the #healthyatanysize community wasn't always accepting of and comfortable in her body.
As a life-long athlete and former Naval Officer, Melinda spent years trying to assimilate into male dominated environments, ones that encouraged her to go "balls-to-the-wall" and push past her limits.
"The emphasis was on changing one's body instead of embracing and loving your body. There was constant tension there for me."
After a back injury that required multiple back surgeries, Melinda was medically discharged from the U.S. Navy – and that's when the real work of re-establishing a healthy relationship with her body began.
"I had a lot of work ahead of me. I didn't know what it meant to be gentle or listen to my body. I didn't know how to develop exercise habits that were sustainable. Every time I tried to get back into working out, I would go out really hard and, sure enough, I'd be 2 weeks in and I'd injure myself again only to find myself out for a month. Upon reflecting back, I recognize that, ultimately, I was incredibly violent with my body. I was hurting myself over and over again. That's abuse and that's what I was doing to myself."
Enter yoga and a paradigm shift that led to an entirely new way of relating to and being in her body.
"Yoga was my gateway into learning how to connect with my body and listen to the signals my body was giving me."
But it wasn't love at first sight. It took time for Melinda to deprogram the deeply ingrained lessons about her body and how to exercise before she was able to reach that pivotal shift in her mind, body and spirit.
"I found Rodney Yee's Gaiam videos and he had videos specific to people with back problems so I began experimenting with them at home in my apartment. I'd watch a little bit and try to follow along before thinking 'oh, that's weird' or 'I can't do that' and fast forward. It wasn't a linear process and it certainly didn't happen in one session. It took some time as I was trying to find my footing before I could completely jump in to get started. After my first session, I thought, 'That's it? What am I doing? This is a waste of time.' In fact, it took several years of yoga before I had the experience of 'Oh, I'm in my body and connected and joyful." I think that mindset shift took longer for me because I was so deeply ingrained in this hardcore workout culture."
In a culture that promotes instant gratification, why continue?
"I was awakened enough to know that the old mentality I still carried with me and informed the ways in which I approached exercise and my body wasn't working. I'd had 2 back surgeries in a 6- month period and there was talk of a third, something I didn't want. But I was still in pain a lot of the time and the ways or working out that had been familiar to me, such as going to the weight rack or running on the treadmill, weren't cutting it. There was an underlying curiosity and I knew I should do it. In fact, deep within I knew I was being called to this way of movement. So I kept toying at it despite my resistance."
But Melinda didn't just experience resistance to yoga, there was frustration. Too often we're taught that we should not only compare and compete with others, but that we should compare and compete with ourselves. In the process, pushing our bodies to grueling lengths as we demand our bodies to push harder, faster and longer (and feeling disappointed and frustrated when we don't measure up).
"From years of over exertion, my body was cramped and tight. I could barely get in any of the poses. Before my back injury, I had been a Type-A, bad ass female athlete so going into something physical and not be automatically 'good' at it was a new experience for me. It didn't come naturally and coming from my back ground I wanted to be 'correct' and 'good' in yoga and I had to let that all go and just be."
Melinda's journey has allowed her to not only feel comfortable in her own skin, it motivated her to do the same for other women through hey advocacy work and she's never short on dishing out words of wisdom to inspire others to move outside their comfort zones, stick with what's new and unfamiliar and allow that experience to change their hearts, minds and bodies.
"I urge women to focus on what feels good and not worry about what it looks like. I also urge women to get out of their apartments and into a studio that feels comfortable to them and allow themselves to connect with others. It's not necessarily going to be easier in isolation and while there is time and space for a private or home practice, I've found so much support and wisdom in a community atmosphere. When I've allowed myself to connect and reach out to others, fellow students or the teacher, it has always added a nice dimension to my practice. Often the self-consciousness we have about going into a studio environment is all in our heads, because other people tend to be just as self-conscious as we are. Try not to isolate yourself and give yourself that chance to connect and come together with others."
To get more of Melinda's inspirational body love, visit her page @MelParrishPlus. We're also featuring ALL women who are participating in the initiative by tagging their posts with #everybodybends and #whatayogilookslike. Tell us about YOUR yoga inspiration and don't forget to tag @gaiam and @ybicoalition to also be entered for a chance to win a free swag bag with loot from the Gaiam collection and literature from the Yoga & Body Image Coalition, and to possibly have your content reposted.
---
AUTHOR BIO: Melanie Klein, M.A., is a writer, speaker, and professor of sociology and women's studies at Santa Monica College. She is the co-editor of Yoga and Body Image: 25 Personal Stories About Beauty, Bravery + Loving Your Body (Llewellyn, 2014) with Anna Guest-Jelley, a contributor in 21st Century Yoga: Culture, Politics and Practice (Horton & Harvey, 2012), is featured in Conversations with Modern Yogis (Shroff, 2014), a featured writer in Llewellyn's Complete Book of Mindful Living (Llewellyn, 2016) and co-editor of the new anthology, Yoga, the Body and Embodied Social Change: An Intersectional Feminist Analysis with Dr. Beth Berila and Dr. Chelsea Jackson Roberts (Rowman and Littlefield, 2016). She co-founded the Yoga and Body Image Coalition in 2014.