Laughter Yoga Rejuvenates the Mind, Body, and Soul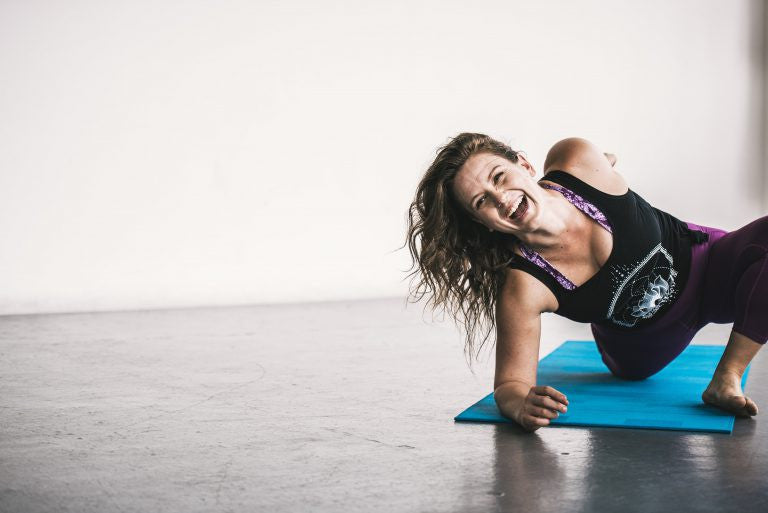 By: Lisa Truesdale
Though all types of yoga offer similar physical and psychological benefits, certain types also have their own unique twist. With Bikram (or hot) yoga, you're experiencing the added benefit of detoxification. With power yoga, you're getting a focus on burning calories. So what about the latest craze in the industry—laughter yoga?
With laughter yoga, you're getting…well, laughter! And that's a big benefit, because laughter yoga's combination of deep-breathing yoga exercises and special laughter exercises (which release endorphins) oxygenates the brain and makes us feel healthier and more energetic. Endorphins are the "feel good" hormones released in the brain and nervous system when doing certain activities (exercise, sex, eating spicy foods or chocolate, singing along to your favorite song) or feeling certain emotions (happiness, love, contentment). You also feel an "endorphin rush" when you laugh, chuckle or giggle—and amazingly, research shows that our bodies aren't able to distinguish between real laughter and the fake kind! This means that, even if you have to force yourself to laugh, giggle, or guffaw, you're still reaping laughter's many benefits.
Clinical research shows that this type of yoga—besides offering yoga's well-documented benefits of increased flexibility, muscle strength and tone and improved respiration and circulatory health—can further lower the body's level of stress hormones and reduce blood pressure.
Laughter yoga was first introduced by Dr. Madan Kataria in Mumbai, India, in 1995, and its popularity has spread to cities in more than 100 countries, including Dunedin, New Zealand, where Sharon O'Loughlin attends sessions whenever she can.
"Yoga has always been something that I wanted to try," she says, "but I struggle to find a spare moment in the madness. When I heard about laughter yoga, I was intrigued, because an activity that combines self-care and laughter was something I definitely had to make time for."
Dr. Kataria—known as "the laughter guru"—now operates a website (www.laughteryoga.org) devoted totally to the practice and to spreading the news about worldwide Laughter Clubs. The site includes comprehensive research information on laughter yoga, plus information about the organization's regular trainings and special events, including Dr. Kataria's upcoming visit to New York City in August, 2016.
There's also a search tool where you can find the closest Laughter Club just about anywhere in the world, like Buenos Aires, Argentina; Ba Dinh, Vietnam; the Azores, Portugal; and Mount Shasta, California. And, if there isn't already an established club near you, you can join one of the telephone or Skype groups, or learn how to start your own new club.
O'Loughlin, who now tries to make it to laughter yoga sessions regularly, explains that one of her favorite parts about it is that the euphoric feeling doesn't go away as soon as she exits the studio. "My core gets a wonderful workout and being surrounded by laughter for a full hour definitely does my soul good," she says. "But the rest of the night, I can't wipe the grin off my face. If I go out with friends from the class afterwards, we keep laughing all evening. It's the best feeling I've every had from any form of exercise, ever."