Gaiam Infleuncer Holiday Picks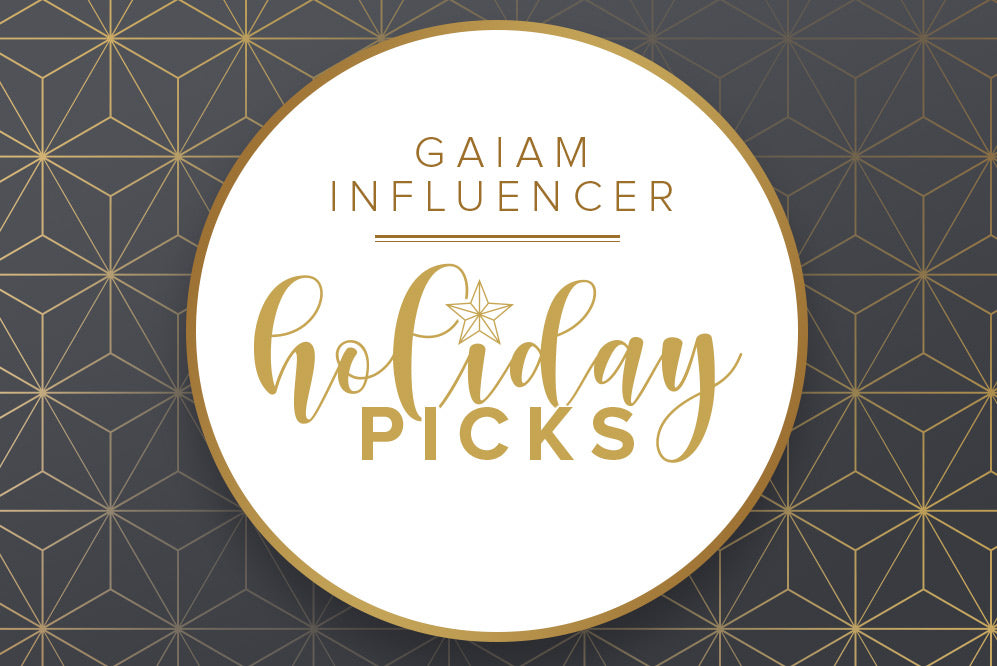 The holiday season is officially in full swing. We've collaborated with our Gaiam influencers to bring you a list of all their tried and true Gaiam favorites for yourself or holiday gifts! 
We have you covered whether you are wanting to stay focused on your own health goals over the holidays, or helps inspire someone on your list with a beautiful yoga mat. A few favorites even include some fab items from our newest Gaiam X Jessica Biel Collection! 
CLARISSA THOMPSON - @clarissa_mae_
GAIAM YOGA WHEEL
"Using the wheel keeps me supported but also allows for a deeper stretch."
ADRIANNA BURGOS TORRES - @adriannanaomi
GAIAM X JESSICA BIEL TRIBECA SWEATSHIRT & ZIP BACK PANT
"This set allows me to live my coziest life." 
MICHELLE ENRIQUEZ - @dietandfries
GAIAM X JESSICA BIEL TRIBECA BOMBER
"I love this style, it's so versatile I can wear it anytime, anywhere." 
ZHENYA HUTSON - @beingzhenya
GAIAM X JESSICA BIEL TRIBECA BRA & TRIBECA 7/8 HI RISE LEGGING
"I'm obsessing over this set!"
CAT GOLDEN - @nineliveshealth
PERFORMANCE JUTE YOGA MAT
"Not only is this mat aesthetically pleasing but I love the durability as well. I'm a woman on the go and this mat has gone all over with me. I love the quality and durability without sacrificing my style preferences. Will spend many more hours on this guy!"
PAMELA LOTT - @besamor44
PREMIUM NIAGARA YOGA MAT
"Not only do I love the color combo of my Gaiam Niagara yoga mat but I'm obsessed with how the 'sticky' texture helps keep me from sliding around. It's my favorite go-to mat for ALL of my floor-based workouts!" 
HEATHER HOOKE - @trubeautymovement
BLOCK & STRAP COMBO
"I love this block & strap set! Both props are high quality + user-friendly for both the classes I teach and my own practice. No matter what level, props are always necessary because your body/flexibility shifts daily. These props really support me, especially in my early morning practice when my muscles (&mind/spirit) are just waking up."
MELINDA PARRISH - @melparrishplus
REVERSIBLE BE FREE YOGA MAT
"I love how durable this mat is! It holds up really well to being dumped in the trunk of the car, and carted around to different studios, as well as outdoor use! It's super attractive, and I find that it enhances my practices because the designs are not only very nice to look at, they're functional. You can use them to guide your hand and foot placement, which has really helped me develop my asanas. Highly recommend!"
KARLA ILLCIC - @karlatafra
PERFORMANCE DRY-GRIP YOGA MAT
"Love this mat for my forearm practice!"
NZINHAH ONIWOSAN - @yesbabyilikeitraw
PERFORMANCE MEDALLION YOGA BLOCK
"I love the medallion blocks because they provide the support I need for both an active yoga practice and restorative form. The beautiful design also adds a beautiful visual."
KIMIA KALBASI - @kimiaskravings 
REVERSIBLE KIKU YOGA MAT 
"I love the Kiku Mat! Not only do I adore the duo design but more importantly, I appreciate the functionality aspect of it as it's durable and sturdy. I love the fact that it's reversible which makes it fun to change it up! It's like having 2 mats #KikuDoYouLoveMe"
MADALENA ESCUDERO - @itscalledballance 
PREMIUM OCEANSCAPE YOGA MAT
"I love my Gaiam mat! I use it mostly in my apartment for when I need a good stretch, or when I'm doing a short yoga sequence if I can't make it to a class. Life always feels super busy, but rolling out my mat out even for a few minutes allows me to focus on my body before heading off to the next thing."
Shop the full Influencer Holiday Picks collection! Be inspired by what inspires there practice.