Dianne Bondy: A Lifelong Yogi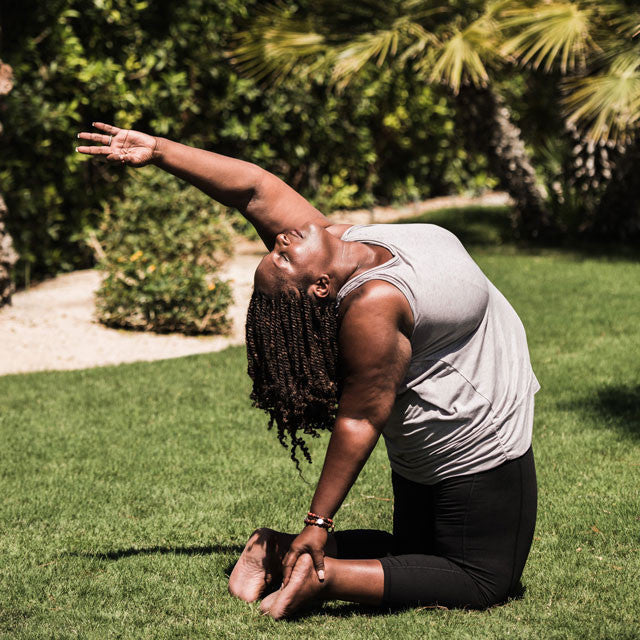 Author: Melinda Parrish
Dianne Bondy is a lifelong yogi.
"My mom was a yogi," she says. "So I grew up practicing in the basement, the yard, anywhere. It wasn't about equipment or outfits — any of that."
Dianne first began practicing yoga at the age of three.
"I practiced on and off most of life, and it wasn't until my late twenties and into my thirties that I noticed how intimidating it can be," recalls Dianne.
"The first time I walked into a studio as an adult woman, I got the once-over, and I knew this was gonna be hard," says Dianne. "They judged me because of my body, my skin color, and my exterior. If you don't look a certain way, as culture and media dictates you should, you get left out of the conversation. Because of size and skin tone I felt excluded, not welcomed."
Dianne turned this potentially isolating experience into her life's mission — and her business.
"I opened my own yoga studio. I created a space that was inclusive and diverse," she says.
Now, Dianne is one of the most influential voices in the yoga today. She has opened up a dialogue around being black and curvy bodied in the yoga world, and has inspired millions of women to take to their mats.
Dianne is a trailblazer, and since she opened her studio, the yoga world has come a long way toward inclusivity.
"Since 2015 there's been a shift in how we talk about yoga, health, fitness. The tone is becoming more inclusive. For those starting out now, the community is more aware of diversity — and acknowledging diversity matters," Dianne shares.
"There is a little pushback from others in the community and attitudes around the practice. They forget that modern-day asana practice isn't five thousand years old. The philosophy is old, but the poses are fluid. Others put the emphasis on practicing these 'sacred' poses, but that's not really yoga. If you're not teaching people to be in the present moment, connecting with others, finding your center, then that's not yoga," observes Dianne.
"It doesn't matter if you modify the asana, it's about centering and getting ready for meditation," she reiterates. In fact, Dianne suggests that obsessing too much about doing the asana correctly can detract from your experience with yoga and the benefits you enjoy as a result of your practice.
Dianne has advice for women who are just getting started with yoga.
"I tell people to start with a community center, or community-oriented class, because it can be less intimidating than a studio with other cultural attachments like diet and wellness. Do it online, or follow along to a video — there's lots of free content out there," says Dianne.
What's Dianne's advice to avoid this pitfall and deepen your practice regardless of your body type, age, race, or experience level?
"Don't beat yourself up — we live in a culture that tells us we're not enough. Don't let that permeate onto your mat," says Dianne.
To see more of Dianne's inspirational content, visit her page @diannebondyyoga. And be sure to share your yoga activity with us, in whatever you feel like wearing. Tag @gaiam and @ybicoalition and use #everybodybends and #whatayogilookslike to be featured!