Chicken and Quinoa Soup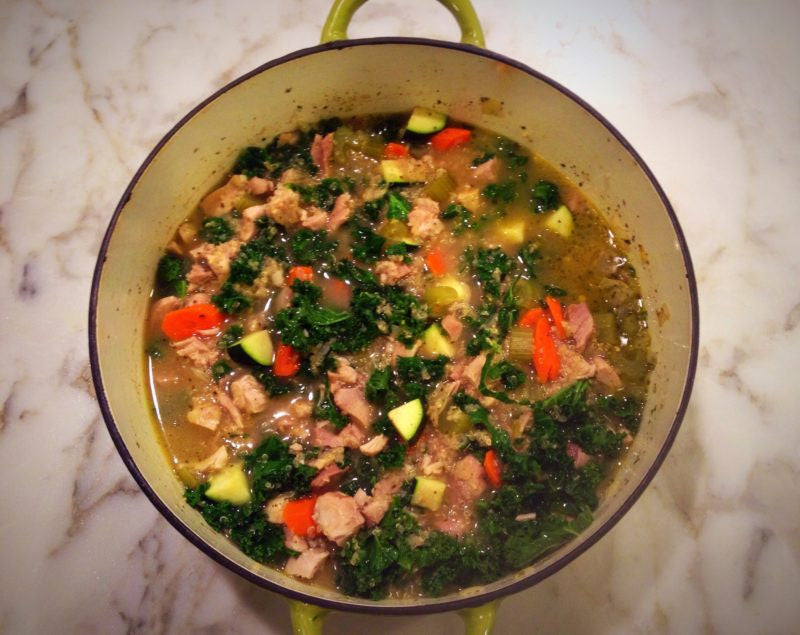 Author: Bevin Wallace
Even when the weather is balmy, I make soup often. Making soup the easiest way I know to use up wilting produce and turn disparate items (some sausage, a chicken breast, leftover cooked grains) into a harmonious, nutritious, and satisfying meal. And now that school is here for real, there is nothing more comforting (and reliable) than a pot of soup on busy weeknights. It's easy to throw together without too much thinking required, and it will just get better as it simmers on the stove waiting for family members to return from study groups, work, sports practices, and whatever other activities seem to keep everyone so busy these days.
The inspiration for this soup was the two giant pots of basil growing in my backyard. I know they won't be overflowing with divine-smelling leaves for much longer. Aside from the pesto, there's a lot going on in this one-pot wonder: It's got chicken, quinoa, and a rainbow of veggies, including lots of kale. I love kale in soup; it just gets better the longer it soaks in the broth. My family loved this soup, and I finished off the rest of it for lunch a few days later and it was still delicious.
Chicken & Quinoa Soup with Pesto
Ingredients
2 tbsp. olive oil
1/2 onion, chopped
1 garlic clove, chopped
2–3 celery ribs, chopped
2 carrots, chopped
4 cups chicken broth (or homemade stock)
4 cups water
5 boneless, skinless chicken thighs
1/2 cup quinoa, rinsed well in a fine-mesh strainer
6 large organic kale leaves, removed from stalks and chopped
1 zucchini, chopped
3 tbsp. basil pesto, homemade (recipe below) or store bought
Salt & pepper
Heat oil in a large pot or Dutch oven over medium heat. Add onions and sauté for 3 mins. until slightly soft. Add garlic, celery, and carrots and cook for 5 more minutes, stirring frequently. Add broth and water and bring to a boil. Add chicken thighs and reduce heat to simmer, cover, and cook for 30 mins. After 30 mins. add quinoa and cook for 15-20 mins. more. Remove chicken with tongs and set on a cutting board to cool. In the meantime add the kale, zucchini, and pesto to the pot. Cut the chicken into bite-size pieces and put back in the soup. Simmer for a few more minutes until the veggies are to your liking. Taste and season with salt & pepper.
Basil Pesto
Ingredients
3-4 cups (loosely packed) basil leaves
Pinch of salt
1 garlic glove
3-4 tbs. pine nuts
¼ –½ cup extra virgin olive oil.
¼ cup grated Parmesan cheese
Rinse and dry basil leaves using paper towels or a salad spinner. In the bowl of a food processor, combine the basil leaves, salt, garlic, pine nuts, and ¼ cup of the olive oil. Process the mixture, drizzling a little more oil in as the machine is running. If you're going to eat it fresh, add grated Parmesan, only stir it in by hand instead of adding to the food processor. If you'll be storing the pesto, don't add the cheese until you're ready to eat it.
---
Also in Blog
From the moment we're born and take our first breath, we're being socialized or learning what it means to be a member of the culture we were born into. We begin learning through both subtle and overt cues, messages, observations and images what the values and norms of that culture are in that time and place. We learn what is acceptable, desirable, worthy, valuable… and what isn't.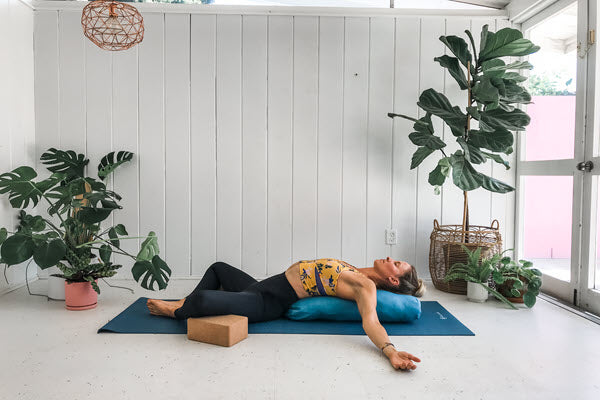 Micha Shaw, former pro swimmer, walks us through five yoga poses that help athletes who perform repeated movements day in and day out, to not only increase flexibility, mobility and strength, but also bring awareness to movement patterns, enhance performance and stay injury-free.
Amanda Huggins, anxiety coach and Gaiam influencer, tells the story of how she transformed her anxiety into empowerment and offers journaling prompts to begin the process of understanding your relationship with anxiety.