5 Rejuvenating Practices to Start Your Day in 10 Minutes or Less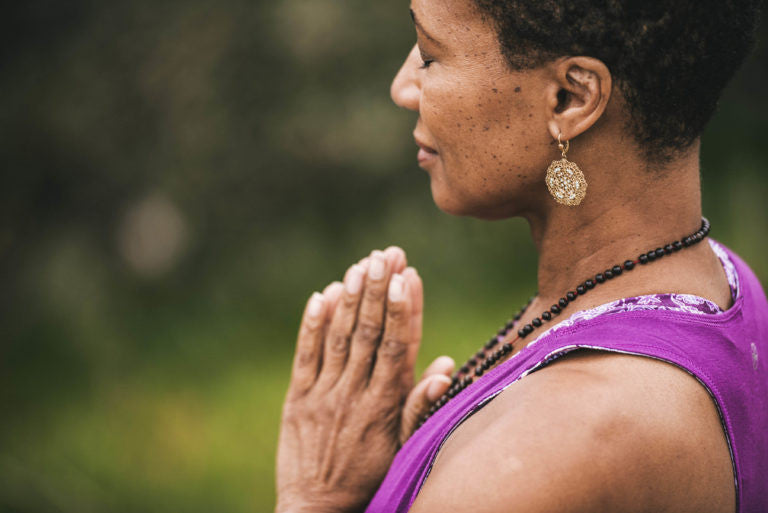 By:  Elizabeth Wellington
When I take a few moments in the beginning of the day for myself, it makes all the difference. Instead of spiraling into stress, I float forward with ease and a bit of enthusiasm. Contrary to popular belief, dedication to a yoga and self-care practice doesn't need to take hours of your time. When you need it, a simple ten minutes can point you in the right direction. Approach your day with a smile and one or more of these practices:
1) Short Vinyasa Flow
Did you know that yogis originally developed yoga asanas as a way to warm up the body before hours of meditation? Why not start your day with the same principles? On average, Americans spend 7.7 hours a day sitting. Ten minutes ofvinyasa flow can loosen up your body before a day at work. Look for a basic sun salutation that energizes your core. By embracing a short but sweet yoga ritual, you can increase your vitality and boost wellbeing.
2) Gentle Stretching
If you don't feel like undertaking a morning vinyasa sequence, sink to your mat for some gentle stretching. Start with some neck rolls to release tension. Spread your legs and stretch your hands toward your toes to open up your hips. Flex your back muscles with cat-cow movements, and hang down in a forward bend. Your movements do not need to be vigorous to soothe and awaken your body.
3) Meditation
If you need clarity or a sense of calm, invest in ten minutes of meditation. By embracing stillness, you reassure your nervous system that there's nothing to worry about, releasing rather than prompting a fight-or-flight response. If you're not as familiar with meditation, you can enlist the help of a guide like Rodney Yee's Daily Meditation or the Global Peace Movement's Meditation for World Peace. Avoid the tendency to criticize yourself for any thoughts that may arise during your meditation. Feeling negative about negative thoughts will only foster more of the same.
4) Breathing Sequence
One of my favorite practices is a short breathing sequence I learned at Kundalini Yoga Boston. The practice, called nadi shodhana, involves breathing through each nostril alternately, which brings peace of mind and clears any congestion. You can do it for as little or as much time as you have. It's wonderful for those days when you crave a sense of balance and grounding.
5) Affirmations and Self-Care
Affirming your self-worth and sense of appreciation for yourself can only lead to a positive experiences. If you're struggling with self-doubt, practice saying, "I love you" in the mirror. Despite how willing we are to share our love with others, we rarely shine that same light within. Cherish yourself for ten minutes—give yourself a hand massage or a mini-facial, and see how you feel.
Despite our tendency to give all or nothing to our daily habits, calling on our deeper, more balanced selves can be as simple as an extra ten minutes a day. What do you do to keep your zen?