3 Tools to Reconnect to your Breath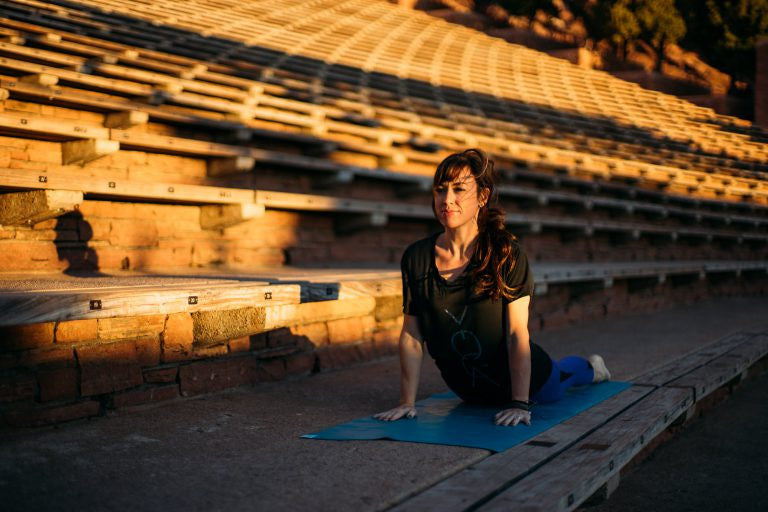 By: The Resource Girls
The reasons we love yoga are endless, however there is one component of yoga we believe sets it apart from any other form of exercise: your breath.
We all use our breath daily, but the extent to which we incorporate it into our practice is completely up to us. We've all been there—you feel like you need to go to yoga after a long day at work only to find that between sun salutations you're thinking about unsent emails, voicemails piling up, and tomorrow's meeting. This is when breath plays the largest part! We would even argue that without using your breath, you're missing out on the full potential of your practice.
In yoga, your breath is your fuel. Your breath matched with movement is what lets yoga transcend from just another workout to a rejuvenated mind, body and soul. It's easy for us to sit here and give you all the reasons you need to focus on your breath, but we understand that sometimes it can be easier said than done. We also have never ending to-do lists, dirty houses and unpaid bills. However, no excuses. This is what drives us to get ourselves in yoga more. Next time you're struggling to focus in-between warrior poses, try one of these three tips to reconnect to your breath.
Actually Feel the Poses
The second you feel your mind start to wander or you lose focus on your breath, bring your attention to the muscles you're working. For example, in holding a chair pose, it can be easy to not sit back into your heels or just kind of lounge like you're on a beach chair. No more! Squeeze your biceps by your ears, actually squeeze those muscles tight. Feel your heels ground down into the earth. Sit deeper and embrace the burning sensation in your leg muscles. In one moment you've gone from lounging to re-engaging in the pose and re-activating your breath and mind.
Stay Present in the Moment by Being Thankful
We are firm believers that gratitude changes everything. Like we mentioned, it can be easy to focus on everything else that needs to be done, but what if we chose to be thankful we were on our mat instead? Even if it's only a five-minute practice at home, there's no reason not to be thankful. Taking a deep inhale full of gratitude changes the course of our entire day and reconnects us to what brought us to our mat in the first place. Feel like you have nothing to be thankful for? Be thankful for your breath!
Embrace Child's Pose
Regardless of whether you are practicing on your own or with a teacher, there is no shame in taking a timeout in your own practice. Child's pose is also great for when you have pushed yourself a little too hard during your practice and are losing your breath, not because your mind is wandering, but from over-exertion. There should never be any emergencies in yoga so take a moment to kneel on the floor, hips wide, forehead to mat with arms extended forward and lay your torso between your thighs. Focus on five to ten cleansing inhales and exhales and get right back into the flow once you're able to align your breath to your movements.
The most important thing to remember is to not beat yourself up. Yoga is a practice, and that means practicing connecting to our breath as well. The more you breathe, flow and practice these techniques, the easier it will become. We have to admit, we think back to our first days on our mat and have to smile and be thankful for how far we've come. Today we inhale, with our strong breath which is our fuel, breathing in gratitude for all yoga has taught us, and exhale doubt and negative thoughts that aren't serving us. Namaste.