Yoga for Men Series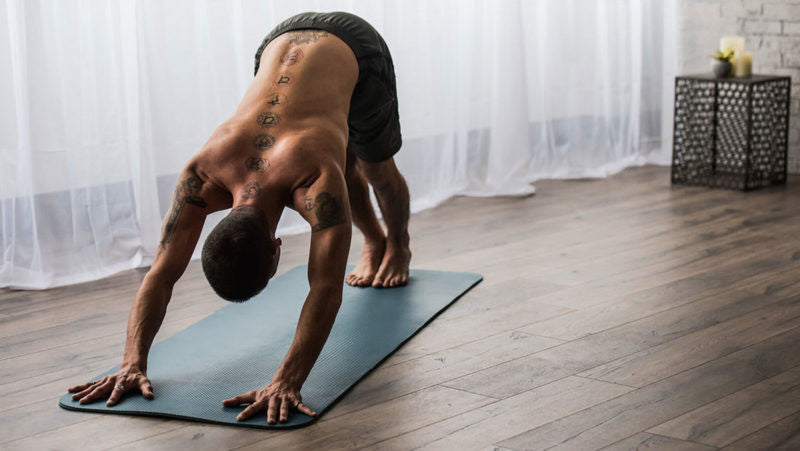 Who needs yoga?  Honestly, we all do. At Gaiam, it's our mission to remind the world that yoga is accessible to everyone—every age, shape, size, gender, social class and ethnicity.
Now more than ever, there is such a rich diversity developing within the online community of yoga, especially with male yogis! So we decided to join forces with Yoga & Body Image Coalition to share stories of some kick-butt male yogis and invite you to bend with us!
For the next seven weeks, Gaiam and Yoga and Body Image Coalition will share stories of the following male yogis:
Todd is a yoga teacher at Hollywood Power Yoga where he specializes in Rocket Yoga. Todd's primary goal is to help educate and bring yoga to people and communities that could benefit from its many healing properties.
Bryan has been practicing yoga for over 30 years. Along with teaching, Bryan is the owner Santa Monica Power Yoga & Mediation (a donation based yoga studio). Bryan's classes are a multi-dynamic experience–a confluence of movements combining a balanced sequence with all elements of physical exercise, mindfulness, moderation and meditation.
Jason is the founder of Detroit Yoga. Detroit Yoga offers Ashtanga and Vinyasa classes daily without loud music or entertainment – just practice. In the last 15 years of teaching, Jason has accumulated over 15,000 hours of classroom teaching experience.
Dan is a yoga teacher at Santa Monica Power Yoga & Mediation with Bryan Kest. His road to yoga wasn't the most traditional, as he didn't like yoga until adulthood. Now Dan has four beautiful daughters and loves teaching.
Jivana is the founder of Accessible Yoga – a community that offers teacher trainings, conferences and networking. Accessible Yoga's vision is to bring yoga to excluded and underserved communities, support yoga teachers, and advocate for accessible yoga. Jivana believes, "if you have a mind and a body, you can do yoga!"
Arjuna is the founder of Share Necessities – a nonprofit organization committed to teach and inspire underprivileged and at-risk youth through workshops in health, wellness, and social responsibility.
Travis is a world-renowned yoga instructor, meditation teacher, kirtan musician and certified Ayurveda practitioner. Travis is the co-founder of Yoga 30 for 30, CEO of Inner Domain Media, director of Holistic Yoga Flow teacher trainings and a member of the faculty of Kripalu Institute and 1440 Multiversity.
---
Bend with us! Share your photo with us using the hashtags #everybodybends and #whatayogilookslike and tag @gaiam and @ybicoalition for a chance to be featured on our social media channels!
By sharing stories with one another, we can inspire even more yogis to get started with their yoga practice, and empower one another to keep coming back to the mat. Regardless of who you are, how old you are, what size you are, what color your skin is, and how much experience you have, you are a yogi if you want to be!