Finding Your Quiet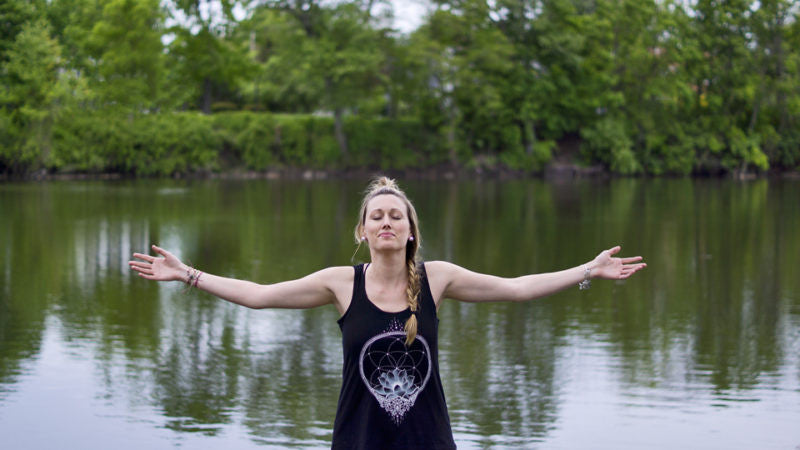 Author: The Resource Girls
Do you find yourself constantly surrounded by noise and busyness? It's kind of impossible not to. With the internet, social media, work, taking care of family and loved ones, and anything else you may be facing, life can be pretty loud. I'm a busybody at my core and always loved tackling a to-do list or being on the go. That is, until I started yoga. Prior to yoga, although I can claim I was kind of a couch potato, I didn't truly understand the meaning of quiet. Most Friday nights, you could find me on the couch, relaxing and recharging my batteries in front of the TV. I used to think this was my quiet. After starting yoga, I realized that this was still a noisy activity that, although it might feel rejuvenating, didn't really refresh my mind like I thought it did.
You don't have to be an experienced yogi to realize that yoga can be a really quiet workout. Although there are a few practices in yoga that aren't meant to be this way, I've found these are the classes I love the most. Starting off in my yoga practice, over a year ago, finding my inner quiet was probably the most challenging for me. As a girl on the go, I love loud things. I listen to my music loud while driving in my car, I always have music or the TV on while I'm home doing chores around the apartment, and I'm definitely a talker. To practice being quiet was like scaling the side of a steep mountain for me. It seemed impossible at first.
We've posted before, here at the Gaiam blog, that finding your breath is the first step in experiencing yoga to its fullest and finding your calm while in practice. Your breath can help you focus, rather than fixating on the thoughts circling in your head. Finding your inner quiet, though, takes practice off your mat as much as it does on. Need a few ways to find some quiet in your day? Here's a few of my tips.
Head to Amazon and buy yourself The Five Minute Journal. This journal is an inner peace game-changer. Find a quiet space for five minutes, both in the morning and at night, to reflect on your day. I was never much into journaling until I came across this. It's simple, easy and doesn't take a ton of time, or writing. I promise, your mind and spirit will thank you.
Find a spot, anywhere, on your lunch break or after work where you can sit for five minutes. Turn your phone on silent—don't worry, everyone in your life will be okay for five minutes, and they'll be there when you're done—and sit. Yes, that's it. Sit. Maybe you live by water. Maybe there's a beautiful park close to your work. If you're stuck at home, have no fear. Turn the TV off, open a window and sit there. No excuses. Allow your mind to be. Don't think of a to do list, or work, or anything else clouding your mind. When those thoughts pop in your mind, focus back on the quietness around you or your breath. You can do it!
Be grateful. Being grateful allows anxious thoughts or to-do lists to go away from your mind. More and more each day, I'm trying to find one or two things I'm grateful for. It boosts my attitude, calms my spirit and makes some problems seem not-so-huge. You don't have to find earth-shattering things to be thankful for either. I love my cat, Dolly, and some days, she's what I'm thankful for. She cuddles me and makes me happy. It's that simple.
Also, Gaiam has an app for meditation. They have a wide variety of five-minute relaxation sessions for things like anxiety, stress, sleep, and even some for happiness and confidence. You simply press play and, as you listen, you're taken on a meditation journey that will have you walking away a calmer, more centered person. The app even has meditation courses that you can take directly using your phone, for things like changing habits or uncovering happiness. Sometimes we need help finding ways to meditate, and Gaiam is there to help. Head to the app store on your phone and download it today!