Anna Guest-Jelley: Finding Connection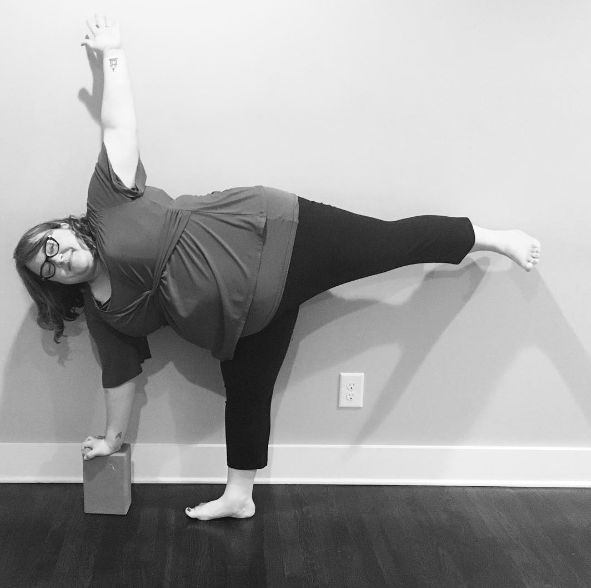 Author: Melinda Parrish
As hard as it is to believe, Anna Guest-Jelley, the creator of the Curvy Yoga movement, wasn't always a yogi.
Anna came to the mat from a lifelong history of dieting and being very conscious of her weight. But size was not at the forefront when she first began practicing. She began exploring yoga while she was in college in the late 90s. She was guided to the practice due to chronic migraines.
"Since I came to yoga for migraines, I wasn't completely focused on weight loss like I otherwise would have been at that point in my life. I still had a secret hope that I would lose weight and look like the people on the videos, though" she confesses.
For Anna, yoga introduced a new premise for movement into her life. "I only ever had a relationship to movement that was negative, based on burning calories and disciplining my body," she recalls.
Initially, Anna had a home practice due to the shortage of available group classes in her area. "We got a class my Senior year, at a community center. The teacher was in her 80s and most of the other students were in their 60s. We would practice on those thick, blue fitness mats—not yoga mats. All of this helped me because the focus was just on feeling good in your body," she says.
"I'd had three years of home classes, and then this gentle class was a great introduction to in-person classes because it allowed me to stay with my own experience and figure out what worked in my body," she says.
Once the "yoga boom" took off, Anna got into vinyasa classes and hot classes because they were the available classes around.
"I started to notice the contrast between my body and every other body in the room," she says. "My strategy was to hang out in the back. I was waiting for someone to tap me on the shoulder and say, 'You're not supposed to be here.' Fortunately, no one ever did say that," she recalls.
"No yoga teacher ever directly said, 'You should lose weight first.' But it was ingrained in all of my cells that my body needed to change and I needed to lose weight. It was not a disputed fact in my life, so it wasn't weird to me that the teacher's instructions didn't often work for my body. I just assumed I'd finally 'get it' once I lost weight," she recalls.
"At one point, I tallied up that I had been on 65 different diets in my life. When I saw that number, I felt in that moment, 'My life has to change, and what has to change is how I relate to my body'."
Yoga provided Anna with a way to connect with her body other than constantly seeking to change it.
"Instructors would say things like, 'Feel what's happening in your big toe,' and I used to brush it off as just things yoga teachers say. I chalked it up to the metaphorical kind of talk you hear in yoga class. Then, I started to really feel it'," she says.
"I was able to feel what was happening in my body for the first time. It allowed me to develop a relationship with my body not rooted in being adversarial," she recalls.
"My problem in yoga wasn't my body after all. It was just that teachers didn't know how to teach a body like mine. This sparked the big change in my practice, and then eventually Curvy Yoga," she says of her now meta-experience, where she is a student that teaches the teachers who will teach the students, that are showing up to their mats looking for transformation, just like she did.
"It's all come full circle, and now with our teachers, we're creating a world that I wish I would have been in 13 years ago," she says, of the Curvy Yoga community she is building.
"I really believe in this profound freedom that can come when you're able to channel the time, energy, and money you used to spend hating your body into living the life that you want. Yoga is the best way that I know how to do that," says Anna.
We couldn't agree more! Visit Curvy Yoga to access a list of teachers trained in Anna's methodology, as well as a vast hub of resources, such as practice videos, events, teacher trainings, and connecting to an online community of curvy yogis.