5 Ways to Bring More Creativity into Your Yoga Class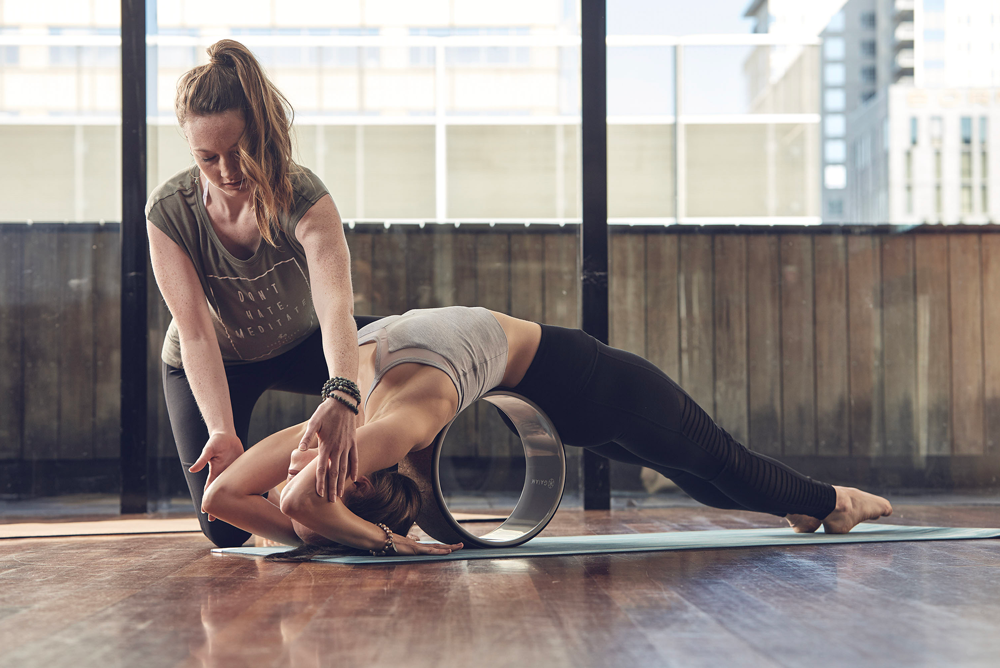 In partnership with beYogi
It's no secret that yoga teachers come face-to-face with burnout all too often.

You're teaching classes on the weekends, driving from one studio to the next, and teaching private clients in your spare time – sound familiar? This constant on-the-go lifestyle can make anyone exhausted, especially a yoga teacher.
A big part of your job as a teacher is to help others live calm lives. If you don't practice what you preach to your students, you can begin to feel like you've failed, which might result in a decrease in creativity and communication – two things you can't live without if you teach yoga for a living!
If you are a yoga teacher who is need of a little change or a creative recharge, you've come to the right place. Listed below are the top five ways you can bring creativity back into your class and your life!
1. Check in with Yourself and your Students
At the beginning of each class, make it a priority to check in with yourself and your students – by taking five minutes at the start of each class you can regain focus on what is most important to you. This will allow you to provide your mind with a fresh slate for the hours that lie ahead. Not only will your brain appreciate the extra attention, but so will your students. Remind your students that by having a check in with yourself, you can gain a new perspective that will allow you to see things that you were not seeing or envisioning before.
 2. Incorporate your Favorite Mantras into your Class
Chances are, as a yoga teacher, you have your favorite mantras on hand no matter where you are in the world – in your car, on your fridge, or even at your desk. These simple reminders can bring numerous benefits into your life, but they can also bring even more benefits into your class. These phrases of yogic wisdom are more than just quotes or sayings, they provide us with the affirmations we need to move forward in our practice and in our life.
During your next class, share your mantras your students. Help them to see and embody each mantra to better assist them in their daily lives and in their yoga practice. By incorporating your favorite mantras into your class, you can better help your students uncover obstacles that might be blocking their creative chakra and their motivational mindset.  
3. Invest in New Yoga Gear 
If you find yourself in a bit of a slump and you feel like you're in need of a little creativity – invest in some new yoga gear for yourself and your classroom. By investing in some new, brightly colored yoga blocks or mats, you can ignite your inner creative fire! Not only will you appreciate the feeling of a new yoga mat, but so will your students. And with Summer right around the corner it's the perfect time invest in some of our uniquely designed yoga mats, blocks, and straps.
Not only do we off offer yoga products for beginners, mid-level yoga enthusiasts and more, we also offer a line of yoga products designed with the yoga-pro in mind at a budget you can be at peace about. You can even enroll in our partner beYogi's Insurance program to receive 30 percent off, all year round so investing in your yoga studio won't break the bank.
Attention Yoga Teachers: Need yoga insurance? Gaiam is partnering up with beYogi to offer you $20 off your annual premium, dropping the annual cost to $159. Click here to learn more!
4. Increase your Volume and Slow Down your Pace
As a yoga teacher it is your job to be a leader, so the next time you stand in front of your class, make your voice known. Don't hesitate to increase your volume and slow down your pace. Not only will this allow your students to embrace you even more than they already do, but it will also allow you to embrace yourself and your purpose leading you to bigger and better things down the road.
5. Be Present
Something that you might hear more often than not in a yoga class is to be present. As a teacher, it can be easy to lose track of your purpose and mission when you're jumping from one class to the next. However, by embracing yourself in the moment, you can harness your energy and channel it into something that you might be lacking such as creativity or motivation. The ability to be present in any moment can be difficult to do, but with the right mindset, you can channel your presence and your purpose in no time.
The next time you find yourself in-between a rock and a hard place, take a minute to refocus your attention on the things that matter. Don't be afraid to check in with yourself, increase your voice, slow down your pace, and be present! By following these five tips, you can easily embrace fresh creativity that can ultimately lead you to your next destination and your next awesome yoga class.